By Peter Hill
Having your vehicle break down or require urgent repairs can be inconvenient and stressful, especially if you have to take it to a repairer or have it towed.
Fortunately, there are mobile mechanics and mobile car repairs companies that come to you. Service providers such as Auto King Car Repairs (Logan City) provide full
professional vehicle repair services across the Brisbane, Ipswich, and Gold Coast areas.
Fully trained and highly experienced mechanics will come to your home or workplace and carry out repairs to your vehicle on site. There is no need to leave your car in a workshop all day.
While major repairs are unavoidable, many people put off having 'minor' vehicle issues seen to; for example, the strange noise that can be ignored by turning up the radio.
Putting repairs off, however, can cost much more in the long run. It is advisable to have minor issues seen to as soon as possible so that they don't become major and costly problems.
When choosing a mobile mechanic, consider the following:
1.The mobile car repairs company should offer the following basic essential services: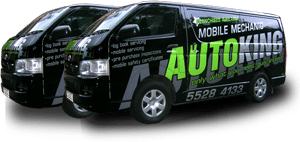 Adherence to Australian standard code of conduct.
Experienced, fully qualified, A-grade mechanics.
All equipment and tools required carried by the mechanic at all times.
Attendance at roadside breakdowns.
A complete range of standard services (batteries, servicing, safety certificates, tyres and repairs).
Same-day service, whenever possible.
2.Ensure the mobile car repairs company provides a fixed quote prior to beginning work and is willing to match or beat any reasonable price quoted by another provider.
Quoting should be free and with no call-out fee or other hidden charges. All potential costs should be covered by the fixed quote.
3.Check that a minimum 12-month guarantee on both parts and labour is provided. Additionally, the mobile mechanic's work should protect the vehicle manufacturer's warranty at all times.
Auto King proudly offers a premium mobile car repairs service covering Logan City, Brisbane, Ipswich and the Gold Coast. We are a team of experienced, A-grade professionals,
who will diagnose and fix your vehicle in a timely manner. Contact us today on 1300 092 949 for all of your car repairs needs.