By Peter Hill
At some point, all car owners are faced with the decision as to whether to use the services of a mobile mechanic or a workshop, whether it be for routine servicing, vehicle inspections or repairs.
Traditionally, all car servicing, inspection, and repair work was carried out in a workshop or service centre. These days, however, enlisting the services of a mobile mechanic has become much more common, due to the myriad of advantages this option offers.
The workshop service vs a mobile mechanic
Workshop
Workshop service requires you to book your car in, frequently well in advance and drop it off at the location early on the day of service. In most cases (unless a courtesy car is available), you will then be without your vehicle for the rest of the day. Any unexpected repairs will result in your car being unavailable for a longer period of time, and you may not always be consulted prior to repairs being undertaken. This translates to unforeseen expenses and extra time without your vehicle. The benefits of using a workshop over a mobile mechanic include better hoisting facilities (frequently not necessary for routine servicing and repairs) and the weather is never an issue (as it may occasionally be for roadside or driveway service or repair work).
Mobile mechanic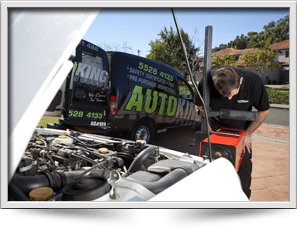 A mobile mechanic will come to your location, either at home or in the workplace, to undertake your car service, inspection or repair work. They are available to come to you at much shorter notice than an appointment in a service workshop will be available. Most mobile mechanics will carry all equipment required with them at all times, and many even have hydraulic hoists for safely lifting your car off the ground. Many diagnostic tools that are available in a workshop are also carried to your location by a mobile mechanic, so even if you have broken down, you needn't necessarily be towed to a workshop.
As you are present while your car is being worked on, all repair requirements and unexpected findings will be discussed with you immediately so you can be the one to make a decision about when and whether to go ahead with repairs. You can liaise directly with the mobile mechanic who will work on your vehicle and you will never have an unsupervised apprentice undertaking work. A mobile mechanic can provide almost all of the same services as a mechanic in a workshop can do, but with personal interaction with the vehicle owner.
While certainly providing various levels of professional service, both the workshop scenario and that of the mobile mechanic have their unique benefits. Overall, however, the convenience of having a mechanic come to you will generally far outweigh any need to take your car to a workshop. Simply ensure you choose a reputable, professional mobile mechanic, like those at Auto King, who is fully qualified, insured and registered for reliable and expert service every time. Call Auto King today on 1300 092 949 for a quote or to book into a mobile mechanic (Gold Coast or Brisbane).