By Peter Hill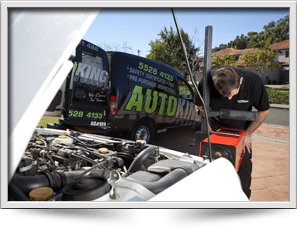 So your car is on the ropes and you can't even get it down the street to a garage for some help. In this day and age that's no problem! There is an option that'll come right to you and get you back on the road, you just need to hire yourself a mobile mechanic to head out and fix up your ride. But when hiring a mobile mechanic you have to consider a couple of things…
1)      Price Some mechanics will charge you an arm and a leg for a mobile car repair. Just because your car needs a hand getting healthy doesn't mean you should have to starve to pay for it. Shop around and find the best priced mobile mechanic… And when you find them keep in mind (if it's not Auto King) that we can beat ANY price!
2)      Honesty Everyone has heard of someone having a mechanic that does a lot of extra work on a car and then expects the owner to just pay for it without any consultation. Make sure you hire an honest mechanic that'll give you a quote straight up and won't charge you more than that quote. If something else comes up that you need to pay for then you should be made aware of the problem before it's slapped with a price tag.
3)      Speed How fast can they get out to you? Will you be waiting days for them to get out and see you? At Auto King we can come out on the same day, your time is just as precious as ours and we don't want you wasting any of it stuck at home with no car.
4)      Experience You don't want some kid that barely knows what he's doing working on your car. Whilst everyone does need to start somewhere, you're lowering your chance for further problems by hiring a mechanic that knows exactly what they're doing because they've done it a hundred times before. Auto King Mechanics have a minimum of 10 years' experience under their belt so you can rest assured that they know exactly what they're doing and can do it in a quick and cost effective way.
So keep these 4 factors in mind when choosing a mobile mechanic to come out to you. Price. Honesty. Speed. Experience. It can be hard to find a mechanic with all 4 qualities, but at Auto King you'll find we tick all four boxes every single time. For any questions or a quote, please call us on 1300 09 29 49.